News for Bytown Touch Football League
Posted Fri Sep 12, 2014 - 12:10 PM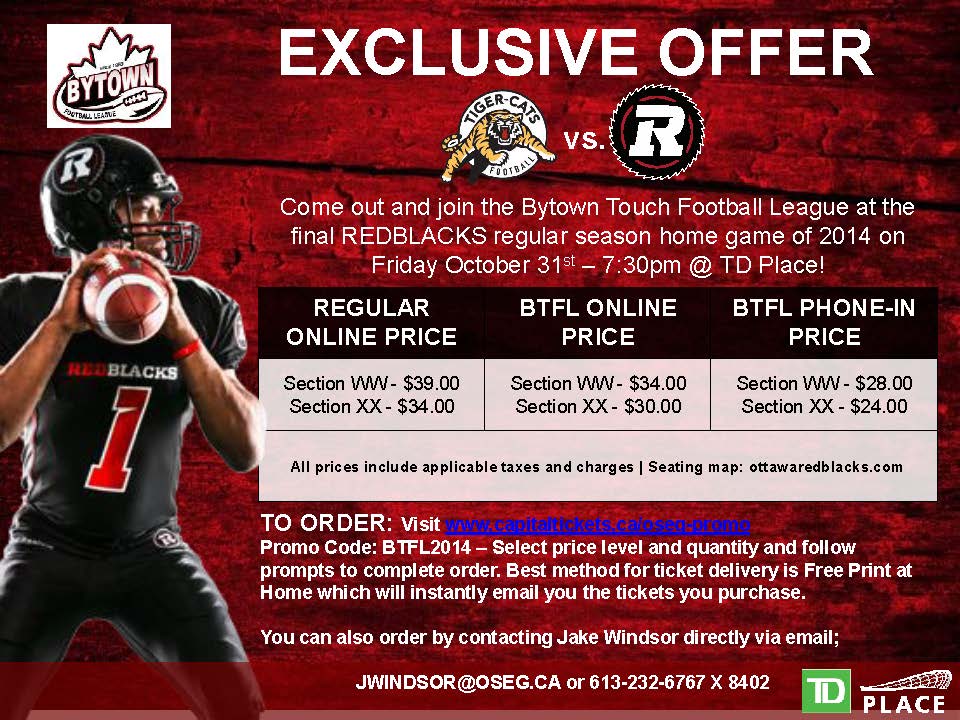 </td>
Friday Night Lights - Part 1
Posted Wed Sep 10, 2014 - 11:40 AM
This Friday will be Friday Night Lights at Ottawa U. See schedule for times and field directions. Parking is included but you must pick up a parking pass at the front desk. Side Street parking is also available but city by-laws will be on the premises. Read the signs!!
The Draft will welcome us as early as 7pm for some $12 pitchers and some great food. The Draft is located on the 2nd floor of the complex.
See you all Friday!!
Posted Fri Sep 05, 2014 - 11:58 AM
Rookies and Spares for 2014
Posted Thu Aug 21, 2014 - 06:08 PM
If you want to join the spare list, you must sign up and then add yourself to the SPARES team.
Committee
The following players are on the list but have not sign up yet...
- Gab Foisy
- Chris Smith
- Peter Juratovac
- Seb Mangon
- Russell Gagné
- Alex Matte
Posted Mon Feb 17, 2014 - 06:25 PM
Congrats to the winners of the 2014 Blizzard Bowl: Stingers